Alta Mae Mattinson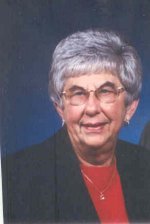 Alta Mae Mattinson, age 85 passed peacefully Wednesday, August 22, 2007 at the Hospice of Dayton.
She was born in Malinta, Ohio to the late Amethist and Fay Gunter.
Alta Mae was a member of the South Charleston United Methodist Church.
She is preceded in death by her first husband Dorvin Ritz, sister, Marcilla Rice and niece Sue.
Alta Mae is survived by her husband, of 15 years, William "Bill" Mattinson of South Charleston, daughter Judi Green of Fairborn, son Jim (Pat) Ritz of Centerville, son Bob (Carol) Ritz of Atlanta, GA., grandchildren; Tim, Tom, Jason, Elisa, Andy, Amy, and Nathan, five great-grandchildren.
Family to receive friends Thursday, August 23, 2007 from 6 to 8pm in the INGLING WILLIAMS FUNERAL HOME, South Charleston; where funeral service will be held 10:30am Friday, August 24, 2007 with Pastor Doug Thompson officiating. Burial will follow in the Glen Haven Memorial Garden.
In lieu of flowers contributions may be given in Alta Mae's memory to the South Charleston United Methodist Church general fund Jamestown St., South Charleston, Ohio 45368 or the Hospice of Dayton 324 Wilmington Ave. Dayton, Ohio 45420.