Alice Jean Spears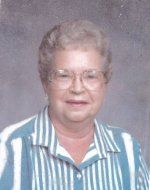 Alice Jean Spears, 83, of South Charleston, passed away Monday, July 21, 2008 at The Arbors at London Nursing Home.
She was born on July 7, 1925, daughter of Russell and Nannie (Ballard) Cornwell.
She is preceded in death by her late husband, Edward J. Clemens; brother, William E. Cornwell; and sister, Helen L. Ward.
She is survived by her husband, Hamer Spears; son, Thomas Clemens; daughters, Melinda Smith and husband Kenneth and Barb Holloway and husband Jack; sister, Virginia Murry of Texas; grandchildren, Jennifer (Micah) Cox, Jeff (Laura) Smith, Tommy Clemens, Barbara (Greg) Otto, Trisha (Les) Geyman, Melissa Peirano, and Angie Holloway; and great-grandchildren, Marquel, Rocky, Madyson, Kaden, Caleb, Kelsey, Dylan, and Olivia.
Alice was a member of the South Charleston United Methodist Church and The Farm Bureau Council of South Charleston. She enjoyed watching T.V., loved cats, and enjoyed spending time with her family, especially her grandchildren.
Visitation will be held on Wednesday, July 23, 2008 from 6-8 PM at INGLING WILLIAMS FUNERAL HOME- SOUTH CHARLESTON, with funeral service on Thursday, July 24, 2008 at 11 AM. Pastor Doug Thompson officiating. Interment to follow at Kirkwood Cemetery.
The family would like to thank the staff at The Arbors at London for all they have done and the compassion they have given.