Charles W. Fox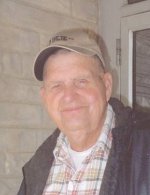 Charles W. Fox, 70, of South Solon, passed away on Sunday, December 23, 2007.
He was born on May 3, 1937, in Columbus, Indiana to John and Annette (Sachleben) Fox.
Charles is preceded in death by his parents, 1 brother, Tom Fox and 1 nephew, Jon Fox.
He is survived by his wife of 39 years, Sondra (Bailey) Fox, and 1 brother, Ted (Dee) Fox.
He attended Purdue University, Division of Engineering and was a graduate of the Ford Motor School. Charles was a retired bulldozer operator and for the past 15 years, he sold horse equipment and produce in London and in Washington Court House.
Visitation will be held at INGLING WILLIAMS FUNERAL HOME - SOUTH CHARLESTON, on Thursday, December 27, 2007 from 4-7 PM with the funeral service on Friday, December 28, 2007 at 11 AM at the St. Charles Borromeo Catholic Church- South Charleston. Interment to follow service at Whiteman Cemetery.