Donald Lee Shinkle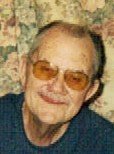 Donald Lee Shinkle, 77, of Cedarville, passed away Monday December 1, 2008. He was born October 15, 1931, a son of Ralph and Flossie (Everhart) Shinkle in Greene County.
Donald was a trackman and airborne infantry light weapon specialist in the Korean War. He retired from Howard Sober's Trucking in 1991.
Donald is survived by his children, Ruth (Roger) Frederick of Cedarville, Donnie (Kris) Shinkle of Jamestown, Barb (Darry) Johnson of Springfield, Dana (Clark) Hall, Noami Fletcher, Kathy (John) Jackson or Riverside; 12 grandchildren; 36 great-grandchildren; brother, Ronnie Acton.
He is preceded in death by his parents; brother, Ralph Shinkle.
Family would like to invite friends to join them at a celebration of Donald's life 5-9 PM Thursday December 4, 2008 in the American Legion Post 544, Cedarville, OH. Arrangements in care of the INGLING WILLIAMS Funeral Home, Cedarville.