Iva Jenny Lanier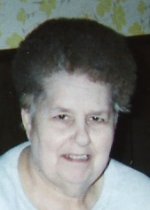 Iva Jenny Lanier, 73, of Springfield, passed away Wednesday October 15, 2008.
She was born August 30, 1935, a daughter of John R. and Inez L. (Fugate) Lemmings in Jeffersonville, OH. Jenny was a member of the South Charleston Garden Club.
She is survived by children, William D.(Glenita) Lanier of Springfield, Timothy L. Lanier of Springfield, Penny Lanier of TX; two grandchildren, Chad and Traci Groves; siblings, Charles M. Lemmings, Carl R. Lemmings, Richard D. Lemmings, Ruby L. Bennett, Shirley A. Evans; several nephews.
She is preceded in death by her husband, Harry Dudley Lanier; son, Tommy Lee Lanier; two brothers, Edward E. Lemmings and Leonard Lemmings; one sister, Arbel Marman.
Visitation will be held from 4-6PM Friday October 17, 2008 in the INGLING WILLIAMS Funeral Home, South Charleston, where service will be held 11AM Saturday October 18, 2008 with Rev. Bill Blain officiating. Interment to follow in Greenlawn Cemetery.