John M. Kyle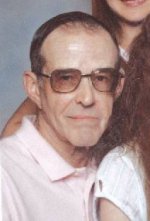 John M. Kyle, age 70, went to be with the Lord Monday, March 3, 2008.
He was born February 6, 1938 in Springfield, Ohio to the late Dr. Donald and Helen Kyle.
John is a graduate of Cedarville High School, Findlay University and served in the United States Army National Guard. He was employed at the Lagonda National Bank, Bomag, and Community Hospital. John was a fanatic about OSU football he also enjoyed coaching pee-wee football, softball and soccer in Cedarville. He participated in the Cedarville 4-H Group by raising sheep, goats and rabbits to show at the Greene, Clark, and Ohio State Fairs. He was a member of the Cedarville Masonic Lodge #622.
He is preceded in death by a sister Marilyn Frost.
John is survived by his daughter Traci Kyle of Cedarville, former wife Linda Kyle of Springfield, nephews; Matt Reaver and David Frost, cousin Joan Plankill of Columbus, sister-in-law Vicki(Nelson)Reaver, extended family Mercedes Ward, Richard Spracklen of Clifton, Tom(Sandy)Trombo of South Charleston, Kirt(Becky)King of Cable, John(Amy)Hammond of Plain City, Mike(Shannon)Chatfield of Springfield, Ron(Tonya)Traudt of Catawba, John(Marty)Oliver of Toledo.
Funeral service to be held 1:00pm Saturday, March 8, 2008 in the Cedarville Presbyterian Church with Rev. Drew Elling and Rev. Warren Banks officiating. Burial will follow in the North Cemetery. Family will receive friends one hour prior to the service.
Arrangements completed by the INGLING WILLIAMS FUNERAL HOME Cedarville.
In lieu of flowers contributions may be made in John's memory to the American Cancer Society. The family wishes to extend a special thank you to the staff at Community Hospital for the care and support John received.