Jesse James Pollock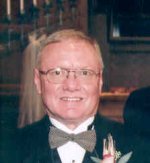 Jesse James Pollock, 58, of Cedarville passed away June 21, 2007. He was born December 2, 1948 in Bedford, VA a son of Raymond and Mary Pollock.
Jesse graduated from Cedarville High School in 1967 and from Central State University in 1971. He was a much loved teacher and coach at Greeneview High School (Jamestown, OH) for 27 years. Jesse's students and players were always a source of joy and he still kept in contact with many of them until the time of his death. Jesse was an avid softball player and loved talking/ visiting with his numerous friends and relatives.
He is deeply loved and will be missed by his wife Brenda (Kinser) Pollock of 36 years; sons, Kevin Pollock, Derek (April) Pollock; mother, Mary; brothers, Danny (Bo) Pollock, Randy (Pete) Pollock, Kenny Pollock; sisters, Raylene Bowen, Linda Pollock, Lois Miller and other numerous family members.
Preceded in death by his father Raymond and sister Sandra.
Memorial services will be held at 2:00 PM Sunday, June 24, 2007 in the Grace Baptist Church, Cedarville with Pastor David Graham officiating. Arrangements in care of the Ingling Williams Funeral Home.