Richard "Dick" LeValley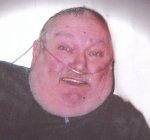 Richard (Dick) LeValley, 66, of Urbana, went home to be with the Lord, on Wednesday, November 7, 2007.
He was born on July 24, 1941, son of Ernest and Mary (Roberts) LeValley.
He is preceded in death by his parents, and his best friend and son-in-law, Robert Cordle.
He is survived by his ex-wife, Allene Goings; 3 children, Teresa Cordle, Richard LeValley and wife, Janet Hayes, and Lisa LeValley; 12 grandchildren, Catrina, Chris, Robby, Ricky, Amber, Tiffany, Michael, Alyscea, Bessie, Jacob, Malek, and Nevaeh; 3 great-grandchildren, Shyla, lil' Robby, and Katlyn; and siblings, Bud, Sandra, Ed, Jim, Sis (Mary), Loren, and Debra.
He was a loving father, grandfather, and great-grandfather. He is sadly missed, but will never be forgotten. He will continue to be in everyone's hearts.
A memorial service will be held on Thursday, November 15, 2007 at 7:00 PM with a visitation 1 hour prior at the JACKSON LYTLE INGLING WILLIAMS FUNERAL HOME, Springfield