Ruth Eleanor Wayne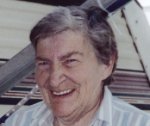 Ruth Eleanor Wayne, 72, of Plattsburg, passed away on Sunday, September 23, 2007, at Community Hospital.
Ruth was born on August 27, 1935 to Harley and Dorothy (Johnson) Catchapaw.
She is preceded in death by her parents, brother, Harley Jr., and great-grandson, Dakota. Ruth is survived by her husband of 54 years, Winston Wayne; 3 sons, Winston (Lisa) Wayne Jr., William (Carol) Wayne, and Timothy (Sherry) Wayne; 2 daughters, Elizabeth Jones, and Susan Wayne; brother, Richard (Cathy) Catchapaw; sister, Elizabeth (David) Weaver; 11 grandchildren; 4 great-grandchildren; special niece and nephew, Sarah Touchette and Sonny Weaver; special grandson, Montana Wayne; and numerous other family and friends.
Ruth was a member of Plattsburg United Church of Christ, previous member of the camping clubs- triple creek sams, an avid bowler for 35 years, and a great woodworker. Ruth was a wonderful wife, mother, grandmother, great-grandmother, and sister.
Visitation will be held on Tuesday, September 25, 2007 from 5-8 PM at INGLING WILLIAMS FUNERAL HOME, South Charleston, Ohio. Funeral service will be on Wednesday, September 26, 2007 at 10 AM at the funeral home. Pastor Jerry Krieg officiating. Interment to follow at Plattsburg Cemetery.