Timothy Joseph Banion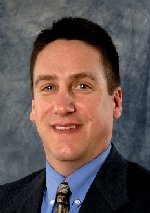 Timothy Joseph "Tim" Banion, age 49 passed away peacefully in his home after a courageous battle with cancer. Tim was born September 17, 1959 in Springfield, Ohio to the late Patton J. and Ruth H. Banion.
He was a 1978 graduate of Southeastern High School, where he was an avid athlete, and later coached many sports in South Charleston and touched the lives of many young athletes. Tim was an insurance agent with twenty-two years of service, who shared a partnership with close friend Scott Fourman. He was a member of the Southeastern Quarterback Club, South Charleston Little League Organization, the Clark County Farm Bureau, an associate member of the American Legion Post #176.
Tim is survived by his wife of 28 years Lynne (Farrell) Banion of South Charleston, their children; Vince, Nick and Haley Banion, brothers; Dwight (Barbara) of Springfield, Dwain (Myra) of Yellow Springs, Alan (Cindi)of Springfield, Jeff (Teri), Todd (Cecile), sister; Gail (Bob) Varner all of South Charleston, father-in-law Ronald (Lavena) Farrell of Springfield and mother-in-law Shirley (Steve) Leach of Jeffersonville, sister-in-law Anita (Farrell) Schuller of Columbus, nieces and nephews; Annie and Aaron Banion, Layla Johnson and Deidra Banion, Cody Banion, Adria Flannery and Tyler Banion, Chelsey, Katie, PJ, and Bryant Banion, Nathan Varner, and Lauryn Schuller, great-nephews; Patrick and Evan Johnson, Owen and Connor Flannery, and Jacob Banion, beloved aunt, Shirley Kittles, along with several aunts, uncles and cousins, many, many friends.
Family to receive friends from 4 to 8pm Thursday, January 22, 2009 at the First Presbyterian Church of South Charleston 15 N. Chillocothe St.; where service will be held 10:00am Friday with Rev. William Reisenweaver officiating. Entombment will follow in the Rose Hill Burial Park Chapel. Arrangements completed by the INGLING WILLIAMS FUNERAL HOME South Charleston.
In lieu of flowers, memorial contributions may be made in Tim's name to the First Presbyterian Church of South Charleston, www.kidneycancer.org, and Community/Mercy Hospice 1111 N. Plum St., Springfield, OH 45504.
A | B | C | D | E | F | G | H | I | J | K | L | M | N | N | O | P | Q | R | S | T | U | V | W | X | Y | Z