Virginia Belle (Vince) Miller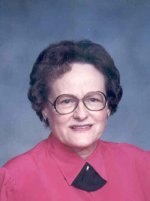 Virginia Belle (Vince) Miller, 81, passed away Sunday, August 5, 2007. She was born December 29, 1925 in Clark County, OH, a daughter of Charles C. and Helen (Hays) Vince.
She graduated from South Charleston High School and Ohio Wesleyan as a Sociology Major and Psychology/ History Minor. She worked for Clark County Child Welfare Department and will be remember for her work as an adoption social worker for 18 years and a staff development supervisor for 26½ years. For 70 years she was a member of the South Charleston United Methodist Church. She held various offices and taught the Sunday School high school class for 13 years. Virginia was also a member of the Monday Night Club and Anna Gilbert Chapter-Eastern Star. She married Ora Max Miller on August 3, 1952 whom she divorced May 12, 1986.
Survivors include her daughter, Sally (Don) Riker of West Mansfield, OH; step grandchildren, Christopher (Shay) Riker of Hilliard, OH, Stephen (Shyla) Riker of Chesapeake, VA and Mariah Riker; sister, Jeanne Ervin of South Charleston, OH; nephews, David (Toni) Ervin of Springfield, OH, Donald (Andrea) Ervin of South Charleston, OH; niece, Nancy (Steve) Waddle of Springfield, OH; several great nieces, nephews and great-great nieces and nephews.
Preceded in death by her parents and brother-in-law Earl Ervin.
Family will receive friends 2:00 to 4:00 PM and 6:00 to 9:00 PM Tuesday August 7, 2007 in the INGLING WILLIAMS FUNERAL HOME, South Charleston. Services will be held at 1:00 PM Wednesday with Rev. Donald Riker and Rev. Douglas Thompson officiating. Burial will follow in Rose Hill Burial Park.